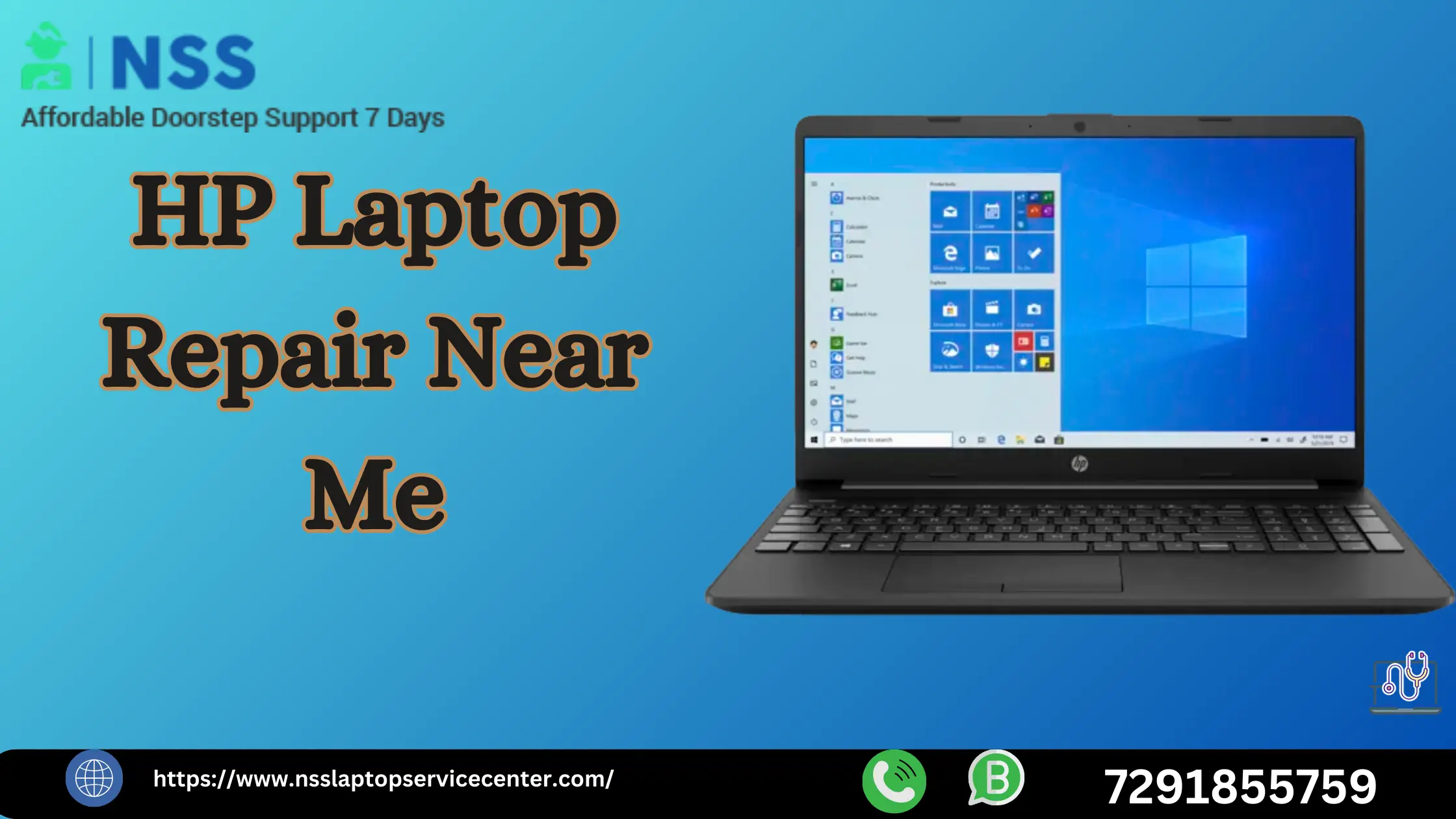 Find Top-Rated HP Laptop Repair Center Nearby You

If you're in need of reliable and efficient HP laptop repair near me in areas like Thane, Noida, Delhi, Pune, and many more cities, look no further. Finding the best NSS laptop repair near you is crucial to ensure your device is back up and running smoothly. Whether you're facing hardware issues, software glitches, or any other technical problem, locating a reputable NSS Laptop Repair service with over 20 years of experience and multiple stores in India is as easy as making one call. Don't let a malfunctioning laptop disrupt your productivity or daily tasks. Simply search for "HP laptop repair near me" and discover the most qualified technicians who can diagnose and resolve your laptop issues promptly. With their expertise and knowledge of HP laptops, you can trust that your device will be in good hands.
Get Premium Servicing Done For Your HP Laptop Repair Near Me!
How important is your laptop for you? Speaking on a generalized ground, I am sure that currently, it is probably one of the most important requirements in all our lives. Be it for education or even occupational purposes, laptops are vital for each role. But what happens when these stop working for a while? Who do you actually trust? A local mechanic or should you just immediately consult HP Authorized Service Centers? We all know that machines are prone to malfunctioning and hence it is important to have the best service centers at our fingertips. The genre of HP laptops is a raging favorite not only among professionals but even for students as well. Hence it is very important that you go to a Professional HP Repair Center near your location or HP Laptop Repair near me
Why Is There A Common Ground For Choosing Authentic HP Laptop Repair Near Me?
Whenever you go on the search engine and ask for the HP Laptop Repair Near Me, make sure that you stumble upon the one that is professional and most importantly authentic.
Why so? Well, we have got the best reasons listed as to why you should consider the same:
HP Laptop Genuine Parts:

Genuine components are guaranteed by a good and authorized center, which will almost surely extend the life of your laptop. It makes no difference whether you go for HP Preparing Automatic Repair or just a screen damage repair. All of the parts that will be utilized are 100% genuine, therefore there will be no damage to your system. When you use foreign parts that don't come from a reliable source, the concern is that they're more vulnerable to harm. As a result, it is critical that you rely on a good option to avoid those inconsistencies.

Budget Orientation:

The primary characteristic of a professional laptop service center is that it places a premium on the concept of affordability. Repairing a laptop, especially with genuine components, can be rather costly, therefore it's preferable to rely on reliable solutions. A poignant service center will ensure that the highest quality service is provided at an affordable price. As a result, it doesn't really matter what the requirement is, it's always preferable to deal with an authentic supplier because you'll get authentic services and that will come guaranteed as well. Sounds like a deal right?

Claimable:

The most important reason why people very often choose authorized service centers is that they will give you a warranty. Let's break this subject down easily for you. Suppose you get a repair service down and after getting it back home you notice that the problem is not quite solved. It could also happen as such that you went to report one problem, but to take care of that another problem arose. This is where the work of an authorized service center creeps in. They usually provide a warranty and within the given span of days, you can get back to them and explain your problem. If it seems genuine enough and there is strong ground for the same you will get it fixed without even paying anything extra.
NSS Laptop Service Center - A Good Enough Option?
If you are wondering how to get the best done for your HP laptop, we have got the best option lined up for you! NSS HP Laptop Repair Near me has been serving the industry for quite some time now and hence their quality service is something that you can easily vouch for.
Some of the primary reasons why you should definitely opt in for our services are:
Expertise Knowledge:

In order to get the most professionalized services, it is important to get services from a center that has in-depth knowledge. We all know that repairing a laptop is not very easy and requires in-depth technical knowledge. Hence always rely on authorized service centers as they have the best professionals trained under them. Not only theoretical knowledge, but they do also excel in practical bit as well. The professionals who supply the service are well-equipped, and as a result, they know just how to handle all of your problems. If you are new to the field and have no idea where to begin, they will assist you through the process and provide you with the best solutions chosen specifically for your needs. After all, what can be more helpful than the expert's opinion in choosing the best?

Laptop Repair Home Services:

It is right that not everyone has the time and energy to go and physically visit the service center and in these cases giving out home services is really necessary. NSS Laptop Service Centre makes this a possibility and you do not need to travel anywhere. The professionals will reach you at your home and will ensure that your laptop is not only picked up but dropped off at the right time. Particularly in today's culture of working from home, it could get really intimidating to find time and get off. This is the reason why they had this scheme planned out to help clients with a much easier repair process.

Multifarious Options For Payments:

The world has gone digital and hence we are certainly bombarded with too many options when it comes to making payments. NSS Laptop Service Centre has kept this in mind and ensured that you as clients get the best options and it becomes convenient for you as well. We do not only accept cash, as not everyone carries the same and hence the process is much more holistic and rewarding.

Client Experience:

It is important to cater to the clients as that is what makes or breaks a brand. NSS Laptop Service Centre has tried to make this a roaring possibility and the experience of clients holds major importance. They are known to understand the requirements of clients very minutely and this is precisely what adds to their experience.
Getting the right Authorized HP Laptop Repair near me is very crucial and hence choose someone like NSS Laptop Service Center. They have got the best credentials that will match all your requirements.