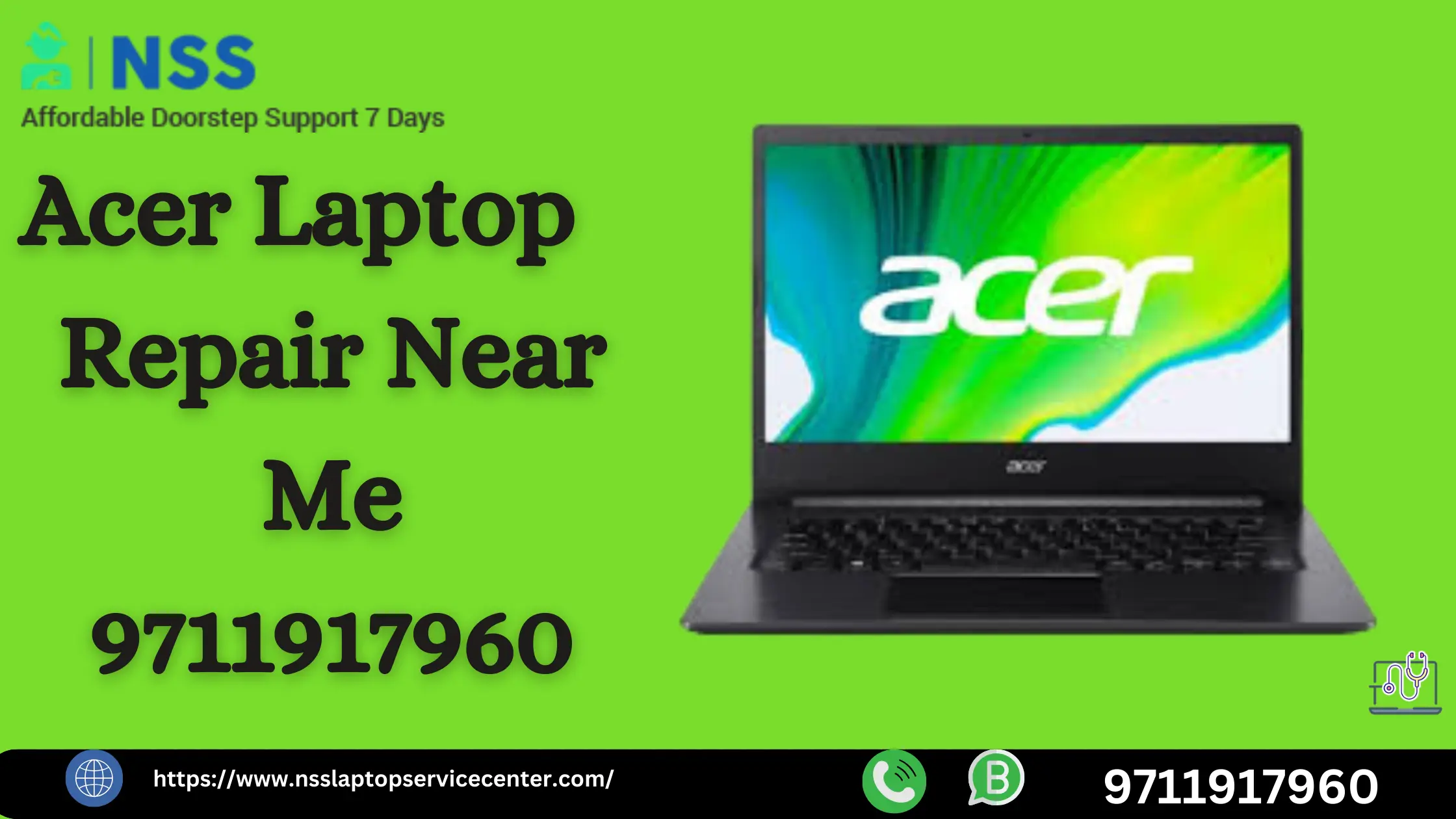 Find Top-Rated Acer Laptop Repair near me
If you're in search of the top-rated Acer laptop repair near Near Me, look no further. At our Laptop Repair service center, NSS takes pride in offering expert solutions for all your Acer laptop needs. Whether you're dealing with hardware issues, or software glitches, or need routine maintenance, our skilled technicians are here to assist you. We provide timely and efficient repairs, ensuring your Acer laptop is back in peak condition as quickly as possible. Customer satisfaction is our priority, and NSS Laptop Repair Service Center strives to offer cost-effective services without compromising on quality. Trust us to deliver reliable Acer laptop repairs and excellent customer service, all conveniently located near you. Visit our center today and experience the difference in Laptop Repair and Service Near Me Thane.
That's where the NSS Laptop Service Center walks in. We are an established Acer repair center across India, and even to your doorstep. Yes. If you call us, we can reach you within minutes and take over things from there to save you precious time. We do it for you, and we are just a call away. We are the answer to your question - which is the best Acer repair center near me?
Along with other branded laptop series, NSS delivers its laptop repair service to Acer laptop owners equally. We have the schematic diagrams of each popular Acer laptop series and our vastly experienced technicians narrow down each Acer laptop repair Near me issues within a blade of time.
We do believe in our skills. And, we deliver our quick service based on that. Our workflow line is based on a simple Mantra - Install real skill to hunt down every laptop repairing issue and deliver the service in the quickest fashion.
Why you should choose NSS Laptop Service Center?
There are many reasons that work in your favor when you choose us. We do believe in our skills and quick turning-around time. That's why we do have a large pool of satisfied and returning customers across this nation.
We are ready - We are available 365 days a year for you.
We are authentic - We are a nationwide Acer laptop repair center and also a laptop buying-selling platform. You can always search for the Nearest Laptop Repairing Shop.
We are a store - Ask us for any authentic PC and laptop spare parts. We got you covered.
We are a platform - We do buy and sell refurbished laptops. We are true to our selling prices. You always get the best deals on refurbished laptops with us.
We value our customers - We do have a no-questions-asked money-back guarantee policy for any glitches during the 30 days of the service warranty period. No hidden charges. Ensured.
We trust our professionalism - we have 7 years of extensive professional experience as an Acer repair center. And, this professional expertise is offered by more than 30 engineers and a large group of regularly trained technicians.
Value for money - Our service charge starts at INR 350/-
We repair all popular Acer laptop series.
Whether it's a high-end or budget laptop, and it belongs to any Acer laptop series, we repair them. We have a pool of popular laptop series schematic diagrams and we work equally smartly with each Acer laptop series.
Popular Acer laptop series:
Acer Aspire(3, 5)
Acer Nitro(5)
Acer Switch(5)
Acer Spin(3,5,7)
Acer Swift(3, 3x, 5, 7)
Your Acer laptop is not on this list? Don't worry. You are still covered.
What are the signs that demand immediate attention from an Acer Laptop repair Near me?
Is your laptop showing any single or multiple signs? Are they frequent? Are you taking any precautions?
Your Acer laptop can display various premature signs that tell about its ill health, and as we all know - precaution is always better than prevention. Because it saves you tons of bucks and your precious time in the longer run.
According to our laptop repairing engineers and skilled technicians, the following kinds of common laptop problems can occur and probably it's time to call the experts.
Overall slow performance:
It can have many problem generation points like RAM or physical memory, HDD, Motherboard, blocked cooling vents, and possible virus attacks.
Tip: You can physically check these laptop segments if you are confident. Further, you can always clean your laptop to give it a better cooling process. If possible, update your Acer drivers.
If you are unable to diagnose, it's probably some deep hardware-related issue beyond your perception. And it's time to go for professional advice from a good Acer laptop repair Near me.
Some start-up issues or laptops running slower than usual:
Possibly, you have set too many programs that will turn on along with your OS. This issue decidedly blocks the fast boot-up process.
Tip: You can turn off the unnecessary programs from the start-up list for a faster booting process.
An overall slow run can be caused by many factors or hardware places. Are you running an out-of-date software version? Is there any lack of system maintenance? Are the laptop cooling vents cleaned? Ask yourself these elemental questions and check for them.
Tip: Start with updating your OS. Do thorough system maintenance as prescribed in the official documents. Lastly, you can always contact our Acer repair center team members for an online service request.
Laptop displaying error messages:
Does that error message display any error code? If it has an error code, note it down and try to learn about it online.
Tip: If you can understand that error message and know how to cure the issue, go for it.
But, if you are not confident, and can't analyze the error code correctly, go to a professional Acer repair center as they can take care of that, easily. If it's frequent, do not wait even an hour.
Is your laptop breathing properly when you are using that? Are the air intake and outgoing vents blocked by any means? Admittedly, it happens very often due to our careless use.
Tip: Do not use your laptop on your bed. It blocks the cooling vents. Your laptop gets heated and an unplanned shutdown is on the way. If that is not your case, it might be something serious hardware-related issues like a motherboard malfunction or something else.
The laptop doesn't turn on:
It can be generated from many hardware and software-related areas. Check your Acer laptop's battery, motherboard, and hard disk issues, and there also can be a screen problem.
Tip: Try to plug in an external display. If it turns on then it's definitely a screen-related issue. But, if you can not figure it out at your home, do not go deep with this issue. Contact a versatile Acer repair center near you. Let the professionals handle the issue.
The battery doesn't charge:
Open the laptop battery. Find a way to measure the battery voltage. If the measured voltage of the battery is the same as the printed voltage on the battery, then it may be an issue with proper contact. Otherwise, your laptop battery is gone and your laptop is demanding a new battery.
Tip: We do have a huge storage of genuine laptop batteries for all popular laptop series. Contact us for its availability.
There are too many factors for this problem. It can be GPU, Motherboard, HDD, or RAM. Further, there are abrasive laptop usages issues like spilling liquid on the screen or keyboard.
Tip: For any hardware-related issues, it's always best to contact a reasonable and authentic Acer repair center near you. If you do things unknowingly to arrest this issue, you will make it even worse for your laptop.
It's fairly common. There is a strong probability that one or multiple laptop hardware areas are malfunctioning. This BSOD often comes up with error codes like 0x0000000A, 0x000000EF, 0x0000003B, or others.
Tip: It's best that you note them down, and inform our Acer repair center near you to troubleshoot the problem.
Admittedly, there are many factors attached to this issue. If you have spilled your coffee on the keyboard it can cause a short-circuit. Further, it can occur from other technical factors like outdated Synaptics Driver, BIOS, or CPU. Moreover, it may be a mechanical problem, or maybe it's just the laptop age.
Tip: Update the required software & firmware segments. If the problem still exists, contact our Acer repair center near you.
Without an internet connection, it's simply impossible to work these days. Is there any issue with the wireless adapter, router, or modem? It's a DIY issue and we already have a detailed article on WiFi not connecting problem.
Now, if it can't help, our trained technicians from the Acer repair center can look into the issue.
Always remember that immediate action can save your laptop's health and your time. And without a well-experienced engineer, it's almost impossible to narrow down these glitches. Further, besides these conditions discussed above, there can be other accidents that you need help with. Do contact us, and we can guide you in taking the necessary steps.
Out of warranty? Our Acer repair center team is here for you.
NSS laptop service center is a pocket-friendly solution for you even if you are worried about your out-of-warranty Acer laptops. We deal with this type of situation and we make things easier for you.
Do you need an Acer repair center? We do it. But, along with being an Acer laptop repair Near Me service center, we are also a laptop buying and selling platform. We buy your out-of-warranty laptop at the best price. And, we also sell refurbished laptops at the best price.
So, in both ways, your problems are catered to. Do contact us for an easy solution if you find yourself in such a situation.
We stand by our ecological pledge.
The planet produces 50 million tonnes of e-waste each year. Each business that falls under both the software and hardware niche has a part to play in this. And, just 20% of this entire e-waste is being recycled today.
70% of this entire e-waste volume comes from computers, laptops, and other smart devices. Thus, our Acer Laptop repair Near Me branches across India maintains the guideline of the Central Control Pollution Board of India.
Our motto is to come up as an ecology-sensitive business. We do take the global e-waste scenario very seriously and we always try to maintain the necessary precautions regarding that. We are an e-waste-sensitive business and each Acer repair center branch adopts a greener e-waste management system.