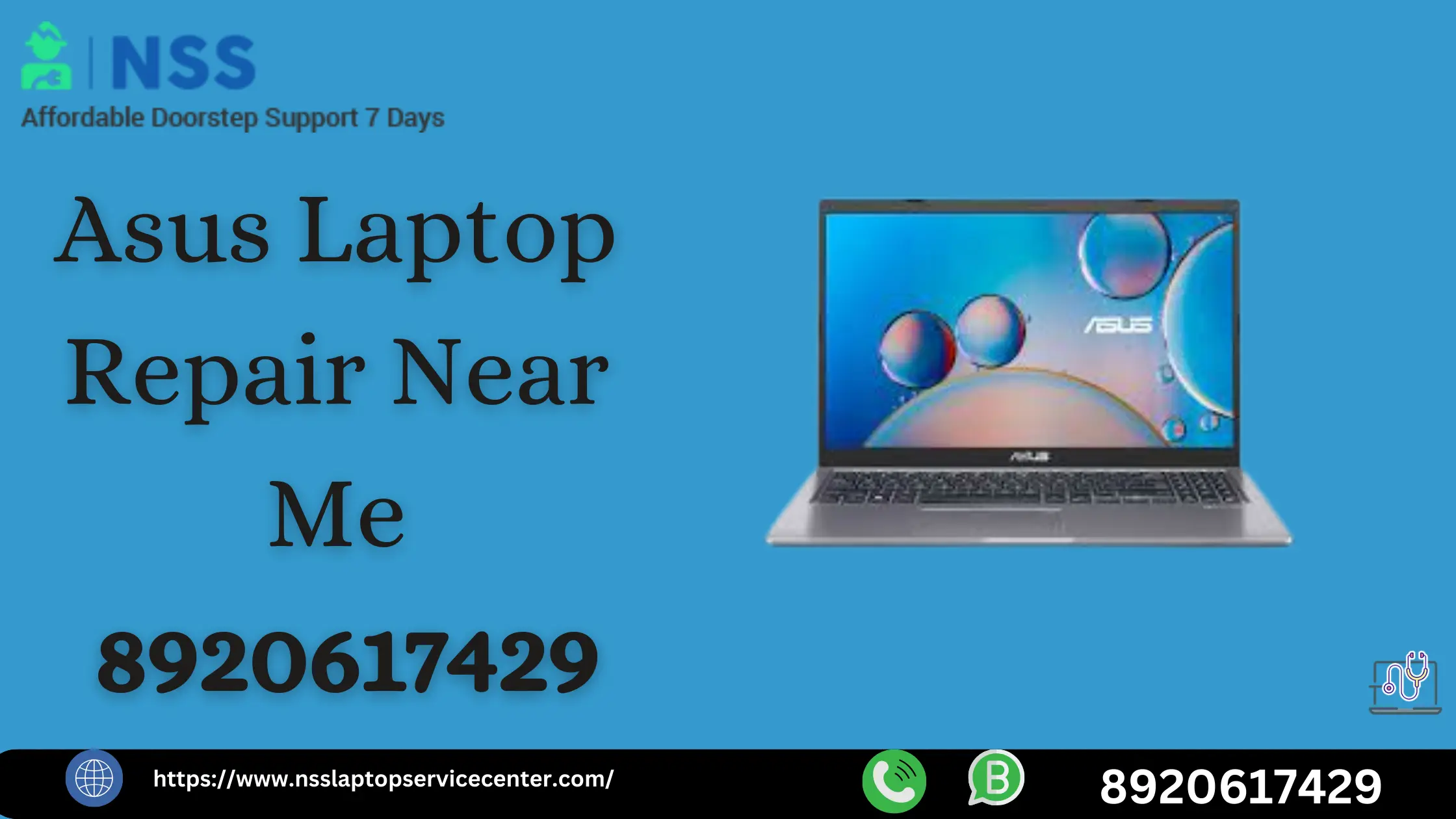 Are You Looking Best Asus Laptop Repair Near Me
Asus as a laptop manufacturer owns a 6% market share of global pc unit shipments. Asus produces a wide range of laptops from the budget to the elite category. It has multiple laptop series that are fairly popular among Indian users. But, laptop breakdown is a happening thing. And the web is flooded with search terms like - 'the best Asus Laptop repair near me.
Typically, the way you treat your laptop defines the limit of its optimal performance for a certain amount of time. And, electronic devices age over time. Their performance gradually erodes from awesome to glitchy. That's where you look for a good Asus repair center to turn your problematic Asus laptop into a well-performing device.
That's where the Asus Laptop Repair Near Me walks in. We are an established Asus repair center across India, and even to your doorstep.
We know the value of your precious time and that's why we started doorstep service. Always remember we are just a call away and we truly want to be the answer to the popular question - the best Asus Laptop repair near me.
Yes. We are near you and we are available 6 days a week. We start operating from 10 am in the morning to 8 pm in the evening. And, we do believe in our skilled repair engineers and technicians. They invest their last drop of knowledge and patience to solve laptop-related problems and deliver your laptop within the least turnaround time possible.
Why you should choose NSS Laptop Service Center?
We are a customer-centric business model where customer satisfaction is our sole vision. We are a system that runs on true efficiency. Our happy and smiling customers are our performance indicators. We love to race against the clock with our knowledge and efficiency.
Further, we are just not another Asus Laptop Repair Near me. We are a platform that deals with every issue that a laptop owner faces.
We are ready - We do function 24*6. And, we are available 365 days a year for you. We function from 10 am to 8 pm within a working day.
We are authentic - We have NSS laptop repair service centers that are strategically placed across India. And, is also a laptop buying-selling platform. You can always search for 'Asus Laptop repair near me', and we may pop up on the search results.
We are a laptop spare parts store - We store and sell authentic PC and laptop spare parts. We always got you covered.
We are a laptop buying-selling platform - We do buy and sell refurbished & used laptops. We are true(we analyze and follow the current market standards) both to our buying and selling prices. You always get the best deals on refurbished laptops with us.
We value our customer's trust - We have a no-question-asked money-back guarantee policy for any glitches during the 30 days of the service warranty period. No hidden charges. No fuss.
We trust our professionalism - we have 7 years of extensive professional experience. And, this professional expertise is offered by more than 30 engineers and a large group of regularly trained technicians.
Value for money - Our service charge starts at INR 350/-
We buy, sell & repair all popular Asus laptop series.
Whether it's a high-end or budget Asus laptop, and it belongs to any Asus laptop series, we repair them. We have a pool of popular laptop series schematic diagrams and we work equally smartly with each Asus laptop series.
Popular Acer laptop series:
Asus Zenbook(Pro, S, Flip, Duo)
Asus Vivobook(Regular, S, Flip)
Asus Chromebook(Regular, Flip)
Asus M series
Asus X series
Is your Asus laptop not on this list? Don't worry. You are still covered.
What are the trouble signs of your Asus laptop that demand immediate attention from an Asus service center for repair?
We all use our laptops on a daily basis. After a considerable amount of usage over a long period of time, most laptops tend to display some trouble signs. Now, these signs are important signals to laptop users regarding the actual health of their laptops.
If ignored, these signs turn into a major laptop breakdown. We have listed out some common issues that Asus laptop users face and how you need to understand those issues.
Asus laptop is running slow/ hanging/poor performance
This is a multifaceted problem. This Asus laptop's overall performance issue can get initiated by multiple laptop hardware elements and software layers. Go through the list of software and hardware areas and possibly you will be able to locate the origination point of this problem.
Old-generation hardware may not provide a speedy performance with new and heavy programs. Check your processor speed and RAM capacity. Determine whether this may have something to do with the poor performance. Are you running a heavy image editing tool or playing heavy games that your Asus laptop's old and limited hardware is not being able to pull off?
Are you working in extreme weather conditions? Is your Asus laptop getting a mild and ambient work environment to deliver better performance? Check it.
Check your HDD for erratic sound or if it's performing well.
Check your Asus graphic drivers. Are they updated and optimized for running your current programs?
Do you have an uninterrupted power supply? Check it.
Do you have virus protection? Check if that Anti-virus is working fine or if it's buggy.
Does your application have any bugs or glitches? It may not even be your laptop that's causing the slow performance. Try running it in safe mode and check whether the problem persists.
Now, after doing all the steps if the problem still remains the same then you can connect with our Asus repair center to have a professional look at the issue.
Asus laptop battery problem
Asus laptop battery problem is quite popular and nagging. Most of the Asus finest laptops that fall in the elite category also face this same battery issue. Now, the most frequently encountered Asus laptop battery issues are:
The battery is plugged in but not charging. It can be an issue with the charging adapter or the battery may be faulty.
No battery is detected. It may be a battery connection issue or the battery is faulty.
Battery compatibility issues may be there.
New Asus laptops may get delivered with a faulty battery.
Now, most of these Asus laptop battery-related issues can be handled well with the manufacturer's recommendation or official usage guidelines for the battery. But, when these things happen it is always better to contact a versatile Asus repair center than dealing the problem manually at home.
Asus laptop color/Display problem
At times, Asus laptops come up with faulty color profiles when it gets restarted or wake up from hibernation mode. You may see color issues like 'curved lines', and 'and yellowish tint'. Now, according to the users and Asus laptop geeks, there's is an in-build program namely, ASUS Splendid Utility.
When you uninstall this program, these bad color profile problems get solved. But, it may not be the recommended course of action. In a situation like this, we strongly recommend you take your laptop to experts. And, our technicians at the Asus repair center are skilled enough to deal with these display or color issues.
Asus Laptop Resolution/LCD flickering problem
You may encounter a dull-display issue if the resolution of your Asus laptop is not set properly. It may not need a professional touch. All you can do here is to go to the official Asus support and follow their guidelines to set the resolution in the right way.
Further, if your Asus laptop's LCD is flickering there may be issues either with the graphic driver or with the 'Screen refresh rate' settings. The latter one, you can set easily through the 'Device settings' option. But, for the first one, you will have to update your current graphic driver.
Lastly, if your Asus laptop LCD has experienced an impulsive force due to rough handling, then it's time to take your laptop to our Asus repair center. We do store a wide range of Asus LCD boards and our technicians provide quick service in such cases.
HDD issues are not new to ASUS laptops. It's a common phenomenon as far as users don't pay much attention to the health of their Asus laptop's HDDs. A failing HDD may drag down the entire laptop usage time or there's is a high possibility that you may not be able to use your laptop at all.
Also, you may experience sluggish performance. even if you can use the computer. Periodic care and a little effort to make the laptop free of viruses/malware is a good way to keep your laptop's hard drive error-free.
Asus Laptop Sound Card errors
Is your Asus sound card shorted? Is it malfunctioning?
Yes. These questions are hard to answer. But, if you are facing any issues with the sound on your Asus laptop these are the areas you may need to analyze. Technically, most of the sound problems get sorted when you update the sound drivers.
If the problem is still looming around, then it's always a sensible thing that you can do. Bring your laptop to our Asus repair center near you. Our technicians will take a professional approach to handle the issue in no time.
Asus laptop network connection issues
Like all other branded laptops, Asus laptops also face these elemental networking problems. At times it doesn't recognize wired internet connections, and this condition is also true for WiFi networks too.
Further, users also reported that they had faced the same problems when they tried to connect their smart handhelds with their Asus laptops. So, this universal networking problem kills our productive time and energy when it becomes too frequent.
Simply updating your Asus laptop network drivers solve most of these networking-related issues. But, after doing so, if the problem persists, then there may be a hardware issue with your laptop's network card. And, that tells you to bring your laptop to an authentic Asus repair center near you.
Why do you need to connect with a verified Asus repair center?
Factually, you need to understand a simple thing here. And, that you can not home-engineer every solution that your Asus laptop faces. At times, users treat these problems too casually. And without fail, these casual approaches fail.
It's always recommended that you do connect with certified and experienced Asus repair center technicians. They understand and solve these issues in a professional manner. When it comes to Asus laptops, you don't wish to end up bringing more troubles than solutions by taking your laptop to an unverified Asus Laptop repair near me service center.
Further, besides these conditions discussed above, there can be other accidents that you need help with. Do contact our Asus repair center, and we can guide you in taking the necessary steps.
Out of Asus laptop warranty? Do not worry. We are here for you.
NSS Asus repair center brings a pocket-friendly solution for you even if you are worried about your out-of-warranty Asus laptop. We deal with this type of situation and we make things easier for you.
Do you need any laptop repair services? We do it. But, along with being an Asus repair center, we are also a laptop buying and selling platform. We buy your out-of-warranty laptop at the standard market price. And, we also sell refurbished Asus laptops at the lowest compared market price.
So, in both ways, your problems are catered to. In any situation, we do recommend you to contact our NSS Asus Laptop repair Near me center to get easy solutions to your Asus laptop problems.