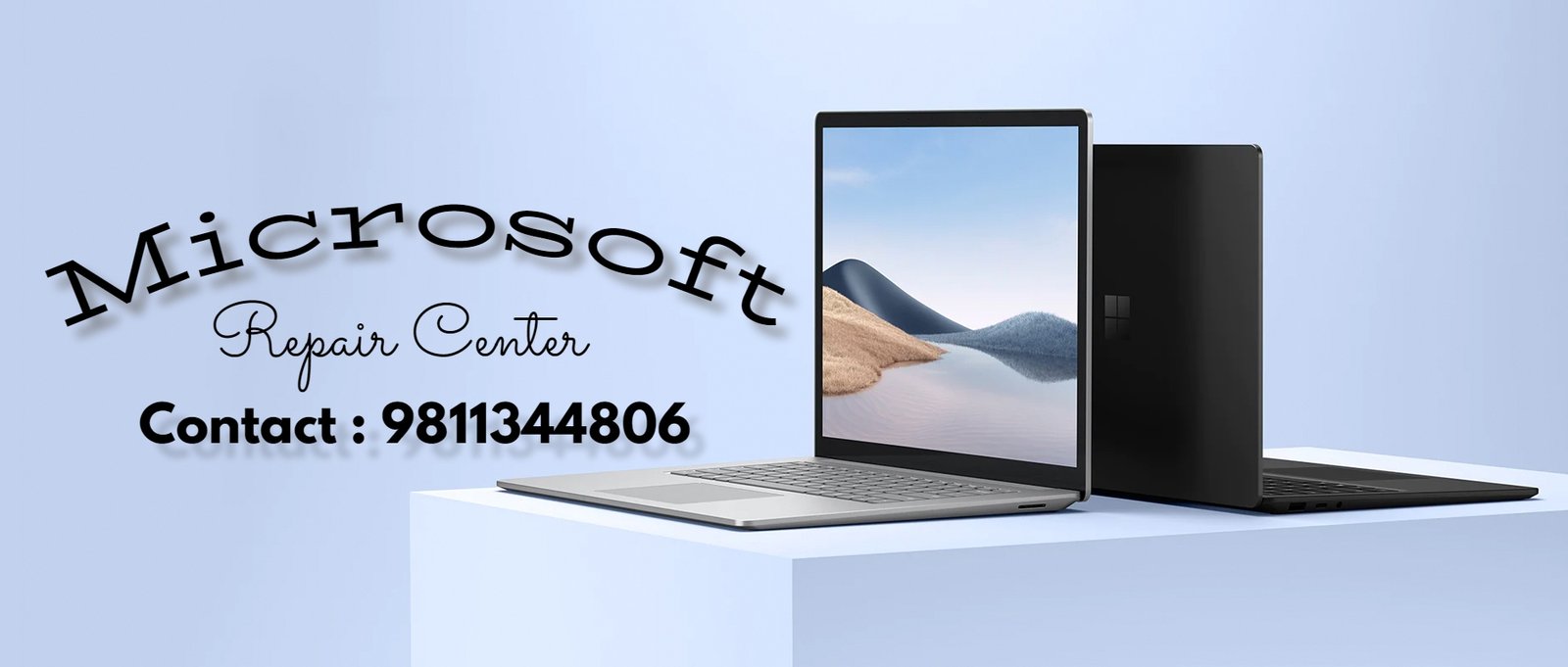 Microsoft Authorised Surface Service Center in New Delhi & Near Me NCR
The American manufacturer's Microsoft Surface is a fantastic example of performance and quality. We use them at work, on the road, and even on walks since they are always in motion, greatly increasing the risk of injury. For instance, a fall to the ground might result in irreparable damage to the equipment; therefore, it is crucial to have dependable and effective service centers to handle any potential technical concerns.
Several Microsoft surface authorized service centers may be found in Delhi, the capital of India, to meet the demands of the company's sizable customer base.
To avoid these situations, you can use protective equipment and covers, but what should you do if you are unable to do so? If your device is still under warranty, we suggest contacting the Delhi-based Microsoft Authorized service center. For a comprehensive list of all nearby Delhi Authorized Microsoft service locations, scroll down.
One of the well-known laptop manufacturers with a sizable consumer base is Microsoft. There are several approved Microsoft laptop service outlets in Delhi if you need a laptop repair. We have conducted some research and included the names, addresses, and pertinent contact information.
Note: With the arrival of its new Authorized Microsoft Service Centers (Walk-in Centers) across India, Microsoft now offers even more support alternatives for your Surface.
Walk-in Microsoft Service Center with your Surface or Surface Accessory
Please back up your data and remove any confidential information from your Microsoft Surface device before visiting the Microsoft Surface Pro 4 Service Center in Delhi.
To verify the validity of your device's warranty, please provide your original receipt, invoice, or duplicate. But don't panic if you can't submit an invoice! Using the serial number of your Microsoft Surface, they may also check the status of your warranty.
Your device or accessory cannot be replaced if it has a defect or has outlived its warranty. For additional information on how to see your warranty, please visit the Surface Standard Warranty.
Depending on the region, support services (such as expert hardware inspection, troubleshooting, and system recovery services) may differ.
Services provided by the Microsoft Service Center Delhi
Authorized Service Center for Microsoft Surface, Office Timing: Monday through Saturday, 10:00 am to 7:00 pm (national holidays and other exceptions may apply.) Services include;
Replacement LCD Touch Screen for Surface
Charger Port Problem
Liquid Injury
Faulty Surface Battery
Surface Speaker Problem: Surface Not Turning On
faulty Surface power button
What Happens If the Warranty on Your Microsoft Surface Laptop Expires?
The idea that approved service providers are the best option for your devices is a widespread one, or perhaps even a misconception. However, the situation is not the same in a real-world setting. Not everyone should choose an approved Microsoft Surface service center in Delhi. If your equipment is still covered by warranty, it can be a good option. In conclusion, the majority of new laptop warranties extend for one year from the date of purchase. Once your warranty has started, problems brought on by manufacturer mistakes, including defective hardware or operating system problems, will be eligible for no-cost repairs.
This is a mistake that most laptop users make. Let me reiterate that you are not covered for any problems that were not caused by the manufacturer, even if they were not your fault. These problems include theft, natural catastrophe damage, and unintentional harm. An illustration would be a broken or water-damaged laptop screen. The authorized repair center will not cover it, even if you are still in the warranty term.
When a Surface's warranty has expired, the services offered at authorized service centers are rather pricey. In this situation, you may contact our NSS Laptop service center in Delhi for the most reasonably priced laptop repair and maintenance services.
Overview of the NSS Microsoft Service Center Delhi
For Microsoft computers, the Microsoft Service Center in Delhi offers a variety of services, including hardware and software updates and maintenance. The center has the most up-to-date equipment and technology to identify and fix a variety of problems that users of Microsoft laptops could experience. For the finest replacement service for Microsoft Surface laptops, call us at +91-9717150098.
From simple software glitches to complex hardware problems, the team of experts at the Microsoft Service Centre in Delhi is well-equipped to handle any issue. So if you're looking for a Microsoft Surface Pro 4 service center in Delhi, you can contact us at +91-9717150098 for the best replacement service for Microsoft Surface.
We fix all types of liquid damage to components including Microsoft surface motherboard replacement cost, CPUs, hard drives, and optical drives at our Microsoft service center in Delhi. At the center, we use cutting-edge data recovery equipment to restore old stored data. Our professionals at the NSS are pleased to assist you if your hinge is fully damaged and requires repair right away. The best AMC services are offered by the NSS Microsoft Surface Repair Center Near Me in Delhi & NCR. Your system is protected from malfunction by the AMC.
You may take into account any type of damage to your Microsoft Surface laptop, including unintentional drops or forceful collisions that result in broken screens. You require virus and malware eradication from trained experts if you are impacted by those items.
Services Offered By NSS Laptop Service Center Delhi
Malfunctioning or damaged keyboard -
The most frequent problem experienced by Microsoft laptop customers is a broken or faulty keyboard. Numerous things, such as unintentional spills, normal wear, and tear, or mechanical problems, might contribute to this problem. For consumers to quickly resume using their computers, the Microsoft Surface Service Center Delhi offers speedy and effective keyboard replacement services.
Unresponsive laptop -
Another frequent problem customers may experience is a sluggish or unresponsive laptop. Malware infestations, out-of-date software, and hardware issues are just a few of the causes of this problem. To solve this problem, the Microsoft Surface laptop service center in Delhi offers a variety of hardware and software repair services. To ensure peak performance, the team of specialists may also upgrade the laptop with the most recent hardware and software components.
Lost Data Recovery -
Users who have lost critical data due to hardware or software difficulties can also get data recovery services from the Microsoft Surface Pro service center in Delhi. A team of specialists at the center is capable of recovering lost data from corrupt files, broken hard drives, or any other storage device. For customers who depend on their computers for business and cannot risk losing their crucial data, this service is essential.
Regular Maintenance Services -
In order to guarantee that users' computers are operating at peak performance, the Microsoft Service Center in Delhi furthermore offers routine maintenance services. To do this, you need to thoroughly clean the laptop's physical parts, update the software, and look for any potential hardware or software problems. To guarantee that consumers can use their computers without any problems, regular maintenance services are necessary.
NSS Microsoft Laptop Service Center: Affordable and Efficient Services For Microsoft Laptop Users
One of the most well-known and reputable Microsoft laptop servicing centers in Delhi is NSS. NSS offers a variety of services for Microsoft laptops, including hardware and software repairs, upgrades, and maintenance services. NSS has years of expertise and a staff of licensed specialists.
Cost-Effective Option for Microsoft Laptop Users in Delhi
Users of Microsoft laptops in Delhi can choose NSS because of its inexpensive and clear pricing for services. Microsoft laptop customers in Delhi frequently use the NSS Microsoft Laptop Service Center because of its competitive pricing. Users may get their computers serviced or maintained without breaking the bank thanks to the center's straightforward and affordable pricing policy.
Focus on Customer Satisfaction
Microsoft laptop customers may rely on the NSS Microsoft Surface Pro service center in Delhi because of its emphasis on high-quality services and client satisfaction.
Users who want to make sure that their laptops are operating at their best have a cost-effective choice with the NSS Microsoft Laptop Service Center's costs, which are competitive with market rates. with an emphasis on offering premium services at reasonable costs.
Equipped with the Latest Technology and Tools
The center has the most up-to-date equipment and technology to identify and fix any problems that consumers may experience with their Microsoft computers. Microsoft laptop customers in Delhi may rely on the NSS Microsoft Laptop Service Center because of its emphasis on high-quality services and client satisfaction.
Why you should visit the NSS Microsoft Surface service center in Delhi
Years of experience in repairing laptops from various brands. Have an experienced and fully skilled professional team. Know the reasons why people choose Microsoft service center Delhi, over any other service center for their laptop repair.
Same-Day Repair Service
Free Estimation Of Repair Charges
High-Quality Original/ Spare Parts
Experienced and skilled Technicians
Device Surveillance: 24/7 CCTV
Local and Onsite Service
Affordable Pricing
Genuine spare parts for void warranty products
Priority is customer satisfaction
We promise that the Microsoft Surface Repair in Delhi will be completed quickly and to the highest standard. Call the Microsoft Surface Pro maintenance helpline at +91-971715098 right now for all your queries.
Laptop Authorized Service Center Near Me